Ridgerunner Cabin Taos Ski Valley
History

uilt in the 1960s using timber harvested from nearby Taos Pueblo, Ridgerunner Cabin has seen many a skier come and go, and is part of fond local memories. In the 1990s, a second story was added with a pitched roof to expand the structure and help shed Taos' deep snow. Most recently, this classic cabin has been purchased and refurbished by a new owner, and is now available as a vacation rental for visitors to the area.
Months of painstaking restoration, sanding, and resurfacing has returned the cabin's logs to their original lustre.
Green Factor: Visitors will be interested to note that part of the cabin's coziness comes from New Mexico's sun. Ridgerunner cabin is situated on a southfacing bluff overlooking the Rio Hondo river, enabling it to capture considerable passive solar gain. During the most recent renovation, a solar heat exchange unit was added which further supplements the cabin's green energy.
Update: January, 2011
The property has been expanded, and now includes a central game room and Norwegian-style timber chalet.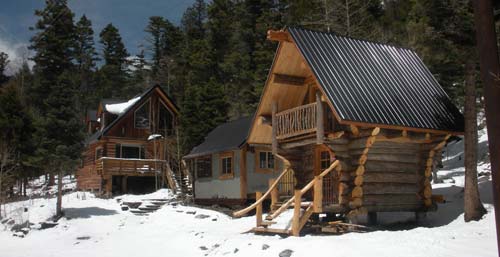 Above, left to right: Ridgerunner Cabin, central game room, and Norwegian-style chalet.