Ridgerunner Cabin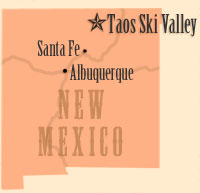 View via Google Maps
Vacation Rental at Taos Ski Valley

elcome to Ridgerunner Cabin, Taos Ski Valley, New Mexico. This recently-restored classic log cabin is now available as a vacation rental. Conveniently located just one half mile from Taos Ski Valley Ski Resort, the cabin is private and peaceful—bordered by beautiful Carson National Forest and the Rio Hondo river.
Visitors enjoy excellent skiing and snowboarding at nearby Taos Ski Valley Ski Resort.
Ridgerunner Cabin
Private hot tub with seating for 5
Well-equipped kitchen
Great room on main floor with open dining room and kitchen
Active and passive solar heated
Cast-iron woodburning stove
Vaulted ceilings
Satellite TV
Washer/dryer
2 bathrooms
3 queen beds
Sleeps 8
Non-smoking
Pets on a case by case basis (must clear with owner)
Central Game Room
Separate structure
Shared by property guests
Foosball table
Norwegian-style Chalet
Timber frame construction
One-bedroom
Second-story deck with expansive forest views
Available by special arrangement
Photo Gallery »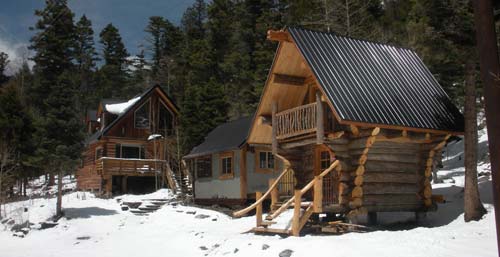 Above, left to right: Ridgerunner Cabin, central game room, and Norwegian-style chalet.